About Sinhagad Pathology Lab
To live healthy and happy, one must keep a check on the body's functioning by going for Health Checkup. Timely medical intervention helps in assessing risk factors and diagnosing diseases at an early stage, which will result in effective treatment and better management of the condition.

The motto of our Lab is "Prevention is better than Cure". Our Lab conducts many camps to catch the diagnosis in the very initial phase. For this we have introduced some pacakages which are also made available in concessional rates.
Sinhagad Pathology Laboratory is one of the oldest and trusted pathology lab on Sinhagad Road area in Pune. We provide all type of Pathology Tests. We take care of individual needs of patients, thereby enabling customized care for everyone according to their needs and health conditions.
Our Laboratory Features :
Well-qualified and Trained Pathologists.
Clean and Hygienic Laboratory.
Latest Machines for varoius Laboratory Tests.
Accurate Test Results.
Concessional Packages.
Home Visit Facililty at nominal cost.
---
Sinhagad Pathology Laboratory is a propritory firm owned by Dr. Bhupendra Mohole who is a well qualified and trained pathologist in Pune. He has got more than 18 years of experience in the field of Pathology. This Lab. was started by Dr. B. D. Mohole in the year of 2005 to provide all type of Pathlogy Tests on Sinhagad Road Area. On panel of TPA services like Health India, MD India, Medi Assist for pre-policy check ups and regular health check ups for clients of various companies.
Sinhagad pathology lab allows to evaluate the health of a person and enable early detection by identifying symptoms. They can also assist in recognizing any future risk of health problems which is a great way of getting to know about your health and opting for early remedy.
Areas We Serve :-
Dhayari
Wadgaon Bk
Manikbaug
Anand Nagar
Hingane Khurd
Manaji Nagar
Narhe
Khadakwasla
Nanded City
Shivane
Sinhagad Road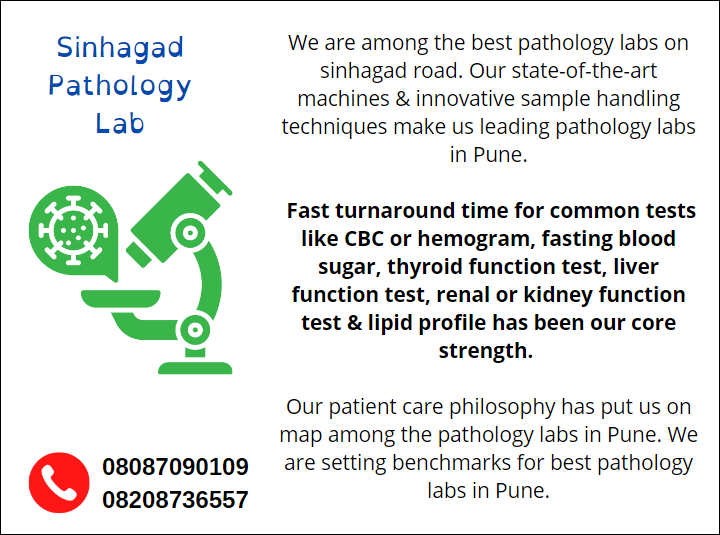 Why Sinhagad Pathology Lab?
We are among the best pathology labs on sinhagad road. Our state-of-the-art machines & innovative sample handling techniques make us leading pathology labs in Pune.


Fast turnaround time for common tests like CBC or hemogram, fasting blood sugar, thyroid function test, liver function test, renal or kidney function test & lipid profile has been our core strength.


Our patient care philosophy has put us on map among the pathology labs in Pune. We are setting benchmarks for best pathology labs in Pune.


We provide a wide range of health packages that cater to your specific needs and promises value for money.


Sinhagad pathology lab allows to evaluate the health of a person and enable early detection by identifying symptoms.
Why does my doctor want me to have pathology tests?
Blood tests are one of the most common types of medical test. They have many uses, including assessing general health, checking for an infection, seeing how well specific organs are functioning and screening for certain genetic conditions.
Pathology tests give more information about your health. They can be used to help:
Diagnose a medical condition (or find a cause for your symptoms)
Monitor a medical condition over time
Screen for certain health conditions to find them early, before symptoms develop