Accurate, Affordable
Pathology Services At Your Doorstep
Sinhagad pathology lab allows to evaluate the health of a person and enable early detection by identifying symptoms. They can also assist in recognizing any future risk of health problems which is a great way of getting to know about your health and opting for early remedy.
The benefits of health check-ups are:
Reduce your risk of getting sick.
Detect potentially life-threatening health conditions or diseases early.
Increase chances for treatment and cure.
Limit risk of complications by closely monitoring existing conditions.
Increase lifespan and improve health.
Reduce healthcare costs over time by avoiding costly medical services.
Form a good partnership with the doctor so treatment can be more efficient.
Get updated on new medical information or technologies that are available.


---
Our Packages

Sinhagad Pathology Laboratory is a propritory firm owned by Dr. Bhupendra Mohole who is a well qualified and trained pathologist in Pune.He has got more than 18 years of experience in the field of Pathology. This Lab. was started by Dr. B. D. Mohole in the year of 2005 to provide all type of Pathlogy Tests on Sinhagad Road Area. On panel of TPA services like Health India, MD India, Medi Assist for pre- policy check ups and regular health check ups for clients of various companies.

Blood tests are one of the most common types of medical test. They have many uses, including assessing general health, checking for an infection, seeing how well specific organs are functioning and screening for certain genetic conditions.

Prioritise your health with following health packages offered by us. For package details please call us today!
We offer below health check-up packages:
Compete Health Checkup Package.
Preventive Health Care Check Up Packages.
Essential Full Body Checkup.
COVID-19 Marker Tests.
Family Health Checkup.
Smart Women Health Checkup.
Comprehensive health checkup for Seniors.
Comprehensive health checkup for Couples.
Tests By Health Conditions.
And Many More...
---
COVID-19 Tests


COVID-19 RTPCR Available Now! All blood tests for COVID-19 available Now!
Anyone with symptoms should be tested, wherever possible. People who do not have symptoms but have had close contact with someone who is, or may be, infected may also consider testing.
COVID-19 Symptoms :-
The most common symptoms of COVID-19 are:
Other symptoms that are less common and may affect some patients include:-
Loss of taste or smell
Nasal congestion
Conjunctivitis (also known as red eyes)
Sore throat
Headache
Muscle or joint pain
Different types of skin rash
Nausea or vomiting
Diarrhea
Chills or dizziness
---
1. Covid Marker Tests
Covid Marker Tests only at Rs. 3020! Book Today! Tests include Haemogram, ESR, CRP, LDH, Ferrtitn, D dimer.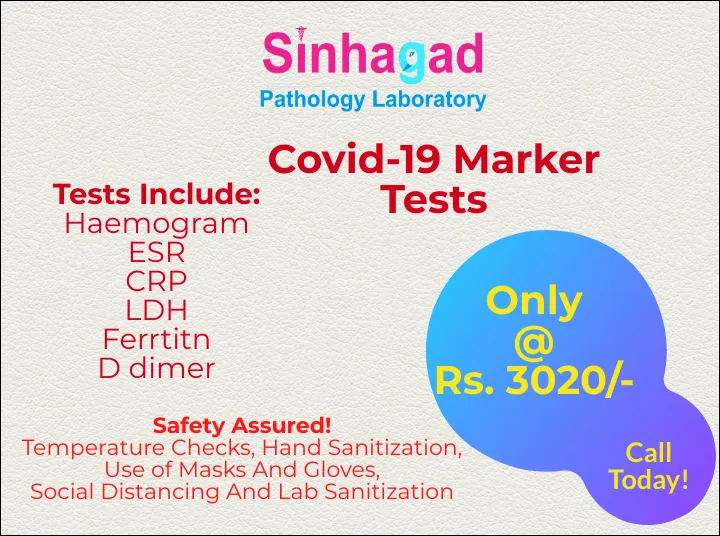 2. Antibody Test (Test for Past Infection)
Antibody tests look for antibodies in your immune system produced in response to SARS-CoV-2, the virus that causes COVID-19. Antibody tests should not be used to diagnose an active COVID-19 infection. Antibodies can take several days or weeks to develop after you have an infection and may stay in your blood for several weeks or more after recovery. Samples for antibody tests are typically blood from a finger stick, or blood drawn by your doctor or other medical personnel.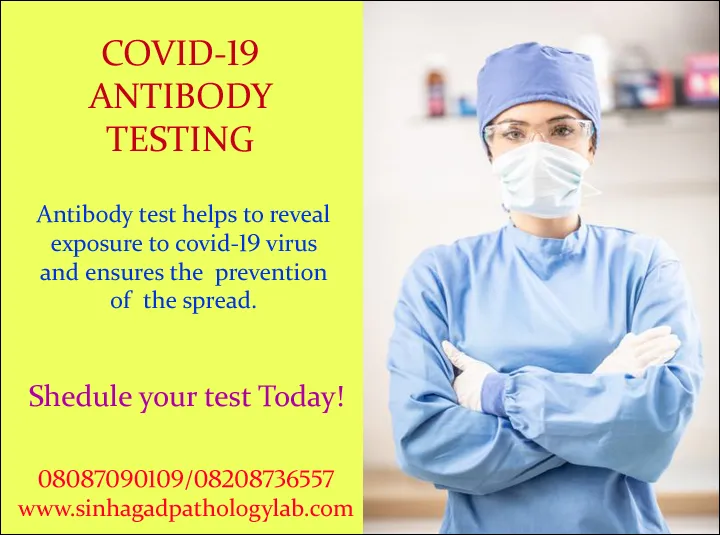 Antibody test tells if you were previously infected with the virus that causes COVID-19. The antibody test does not look for the active virus but checks whether your immune system has responded to the infection.
3. RT-PCR Test
The RT-PCR test or the Reverse transcription-polymerase Chain Reaction is considered to relay the most accurate outcomes for COVID-19 diagnosis. To detect the virus's presence, the suspect's nasal and throat swabs are collected.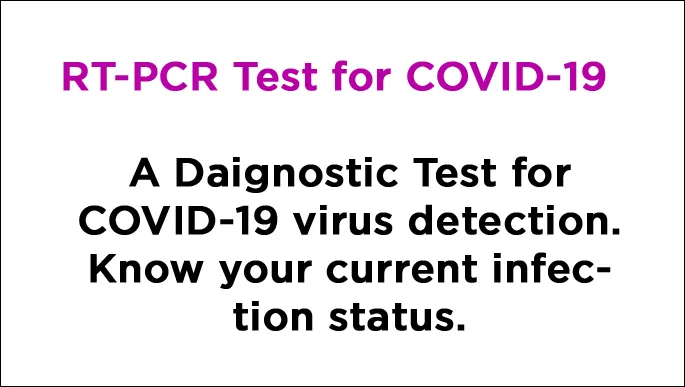 If you want to get tested for coronavirus, you can opt for an at-home collection facility for COVID testing through our app. This essentially means that you no longer need to step out of your house for a COVID test. Trained health officials arrive, clad in PPE, and collect the samples, ensuring minimum contact all the while. Anyone who has come in close contact with a COVID-infected person or has shown early symptoms of COVID-19 can take the COVID RT-PCR test. Specimen collection: Nasal swab and Throat Swab.
HEALTH CHECKUP PACKAGES


HEALTH CHECKUP BASIC
CBC | URINE ROUTINE | BSL (F) | CREATININE BILIRUBIN CHOLESTEROL | TRIGLYCERIDES | PROTEINS




HEALTH CHECKUP ACTIVE
CBC | URINE ROUTINE | BSL (F) | LIPID PROFILE LIVER PROFILE | KIDNEY PROFILE | URINE ROUTINE PROTEINS | ALBUMIN | CALCIUM




HEALTH CHECKUP EXECUTIVE
CBC | URINE ROUTINE | BSL (F) | LIPID PROFILE | CALCIUM | LIVER PROFILE | THYROID PROFILE | KIDNEY PROFILE | URINE ROUTINE | PROTEINS | ALBUMIN | URIC ACID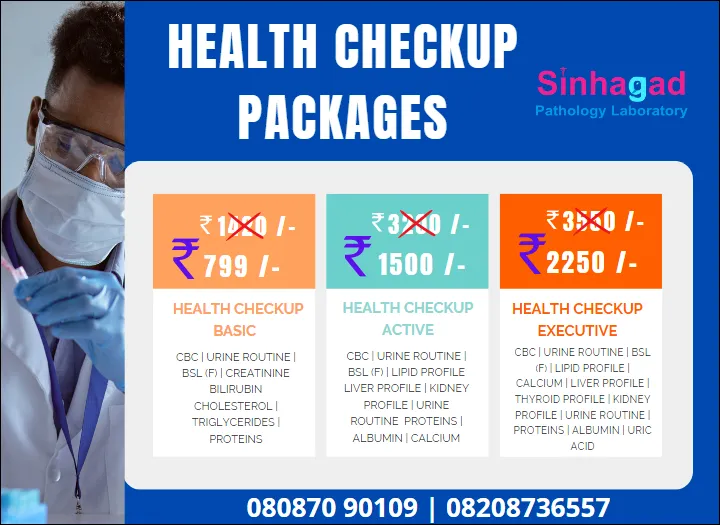 PULMONARY FUNCTION TESTS (PFTs)


Pulmonary function tests (PFTs) are noninvasive tests that show how well the lungs are working. The tests measure lung volume, capacity, rates of flow, and gas exchange.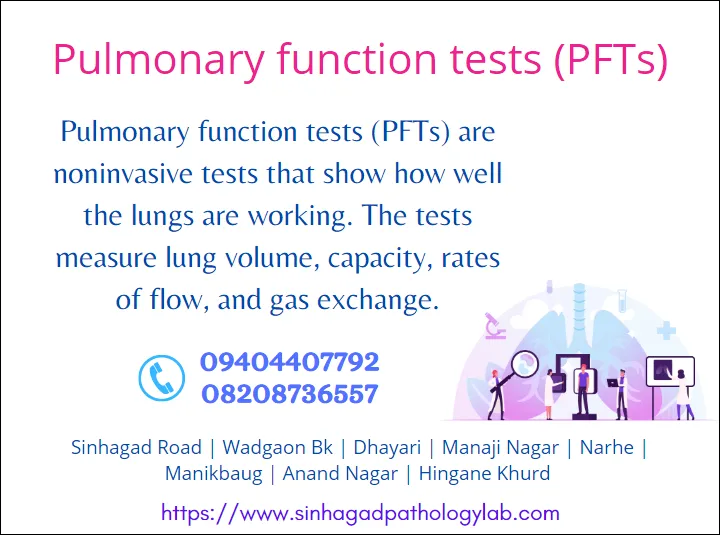 40 PLUS PACKAGE


Tests include:
CBC with ESR
Urine Routine
BSL-Fasting
Serum Calcium
Lipid Profile
Liver Function Tests
Kidney Function Tests
Thyroid Function Tests(T3, T4, TSH)
HIV
HBsAg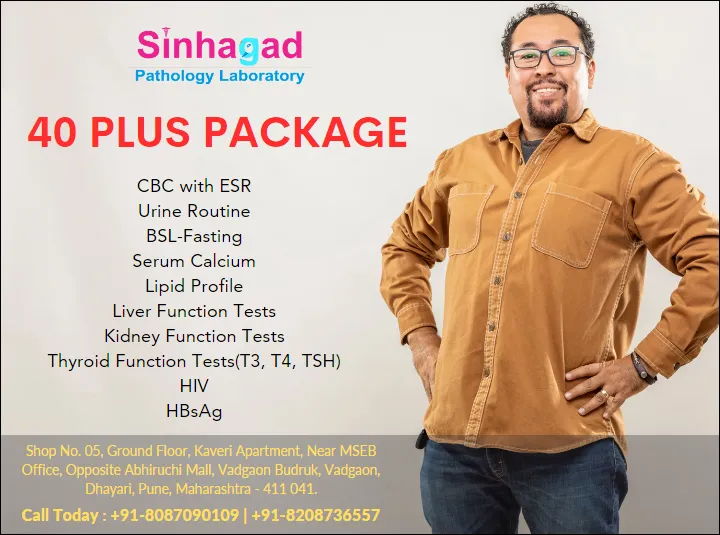 62 TESTS PACKAGE


Tests include:
CBC, ESR-18 Parameters
Urine Routine- 18 Parameters
Sugar- Fasting- 2 Parameters
Liver Function Tests- 9 Parameters
Kidney Function Tests- 3 Parameters
Lipid Profile- 6 Parameters
HIV, HBsAg-2 Parameters
Calcium
Serum Electrolytes- 3 Parameters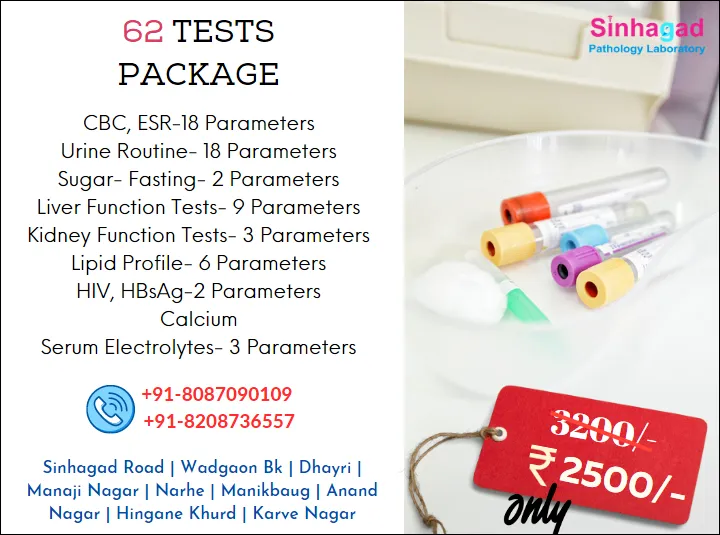 CARDIAC PROFILE


Tests include:
CBC, ESR
URINE ROUTINE
BSL-F
LIPID PROFILE
RFT
LFT
S.LDH
S.HOMOCYSTINE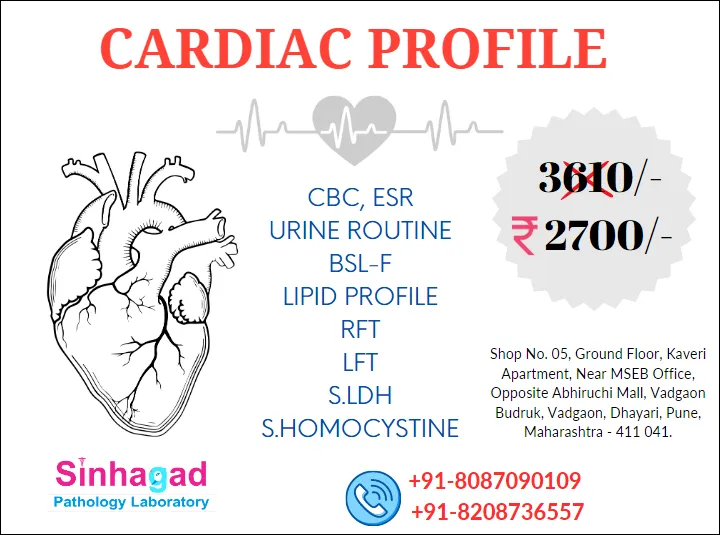 HYPERTENSION PROFILE


Tests include:
CBC, ESR
URINE ROUTINE
RFT
LFT
LIPID PROFILE
S.ELECTROLYTES
ECG
S.HOMOCYSTINE
MONTHLY DIABETES CHECK-UP


Tests include:
BSL-Fasting
Urine- Fasting
BSL-PP
Urine Glucose-PP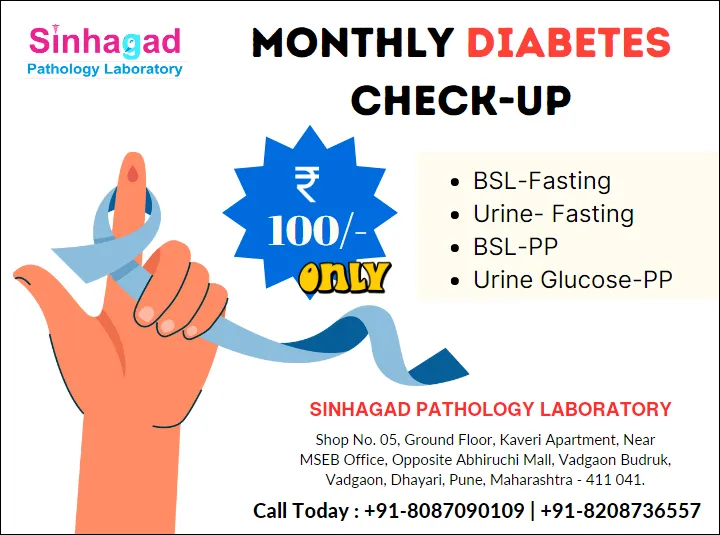 ALLERGY BLOOD TESTS


Allergy blood tests are used to help find out if you have an allergy. There are two general types of allergy blood tests: A total IgE test is used to measure the total amount of IgE antibodies in your blood. Timely screening can help you in avoiding illnesses.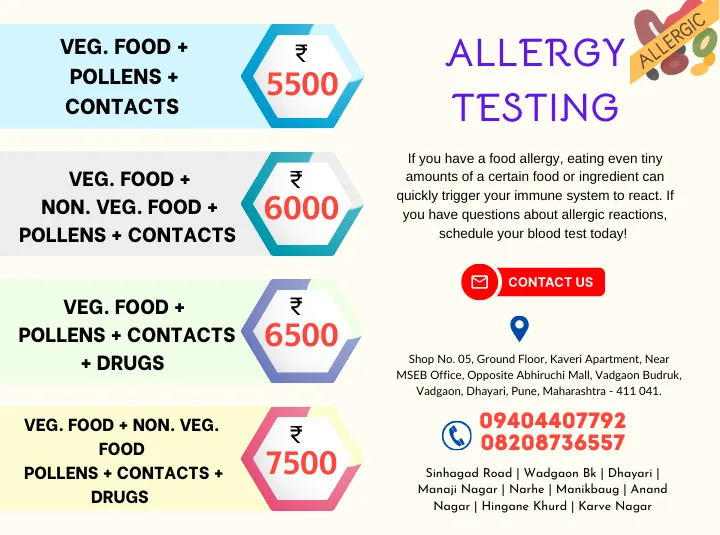 DIABETIC PROFILE

BSL F&PP
URINE ROUTINE
CBC, ESR
RFT
LIPID PROFILE
HBAIc
URINE MICROALITUMINLEVELS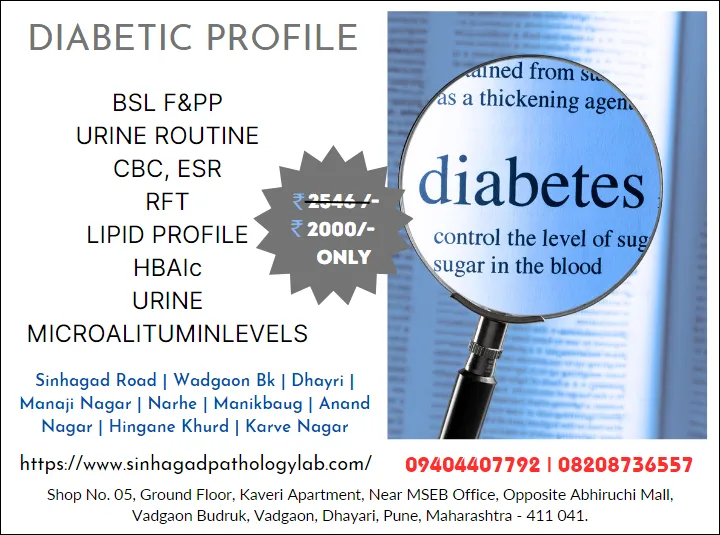 TOTAL BODY PROFILE (86 Parameters)

CBC with ESR
Urine Routine
BSL-Fasting
HbA1c
Lipid Profile
Liver Function Tests
Kidney Function Tests
Thyroid Function Tests(T3,T4,TSH)
Vitamin B12
Vitamin D3
Serum Iron Studies
HIV
HBsAg